The 2022 Price List has been released
and is effective as of March 28th, 2022!
Below is a list of brand with pricing updates: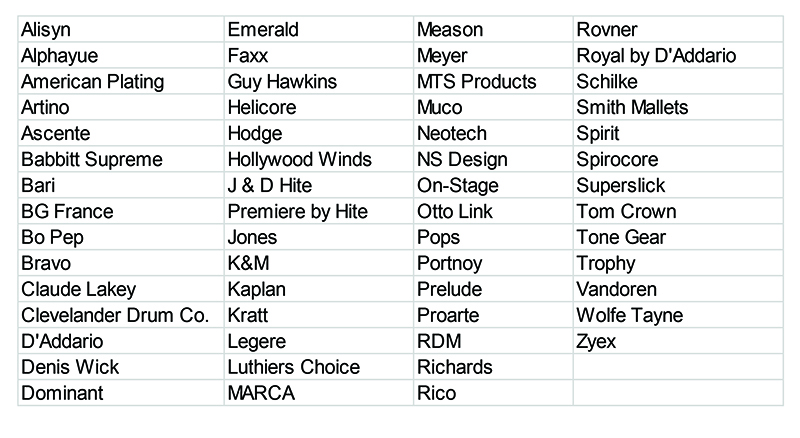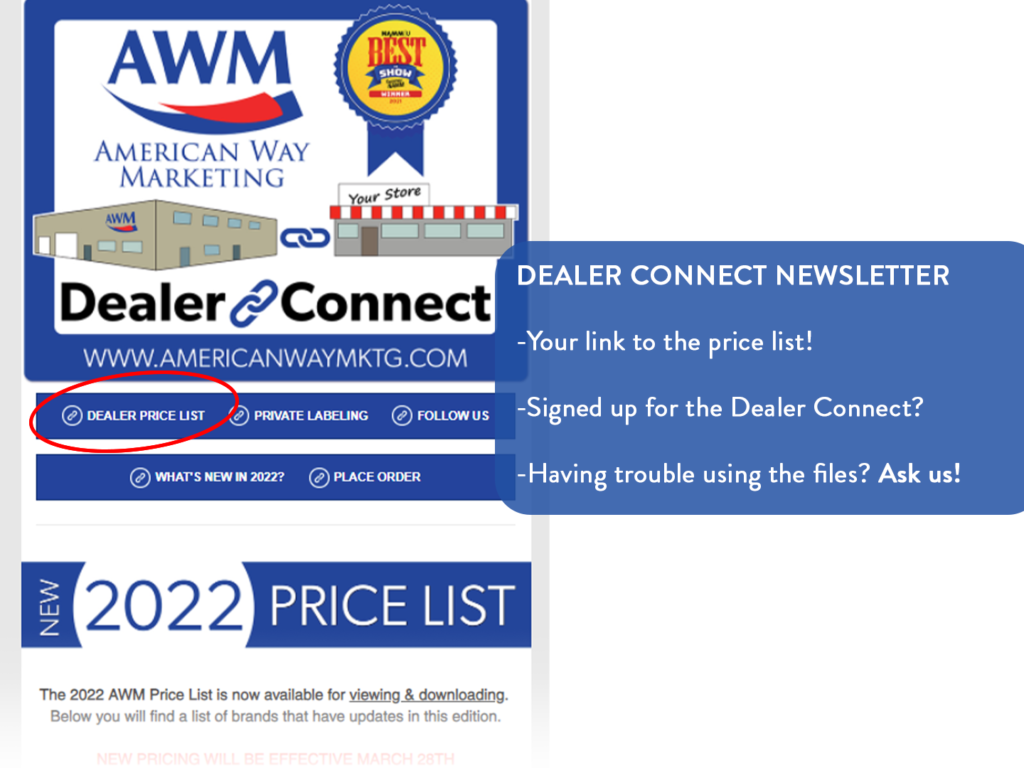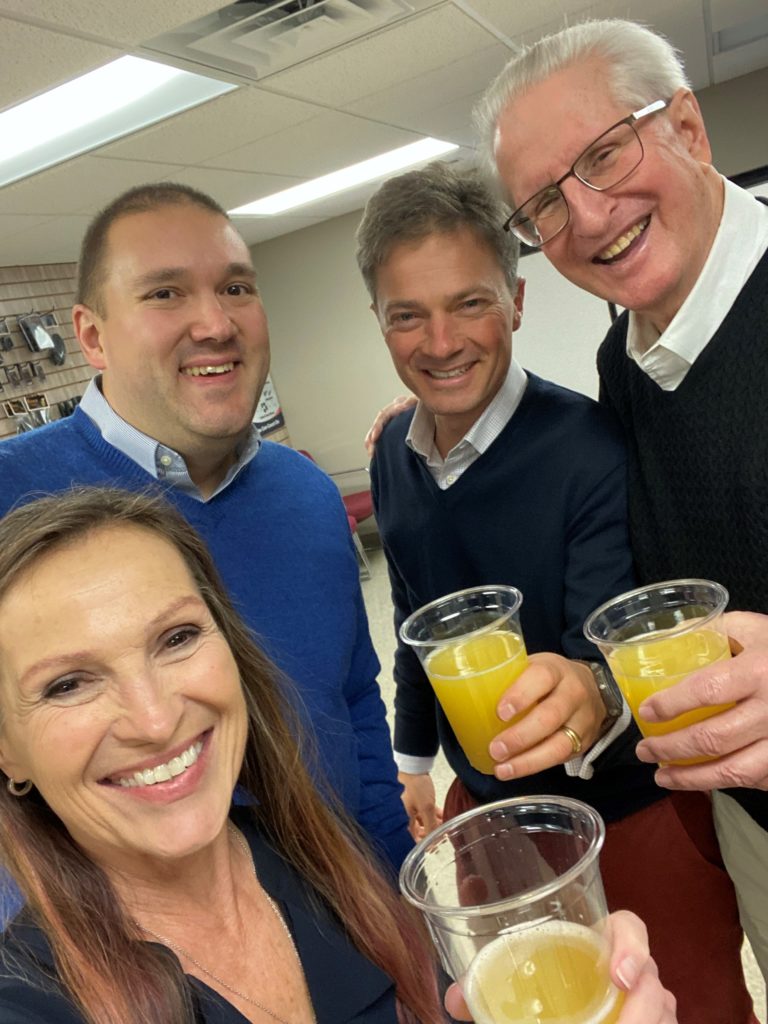 AWM OWNERSHIP CHANGE
American Way Marketing LLC (AWM), a music accessory distributor and producer based in Elkhart, Indiana, is pleased to announce a transfer of ownership from longtime music industry leader John Musselman to Vice President Tim Ricci. Kathy Donohoe, President and Jakob v. Wolff, both member owners, will continue in their current roles. Ricci began his career in the music industry with Music and Arts, a band and orchestra retail company based in Frederick, Maryland. He started as a sales associate at one of M&A's stores and worked his way up through various roles to Director of Merchandising. Ricci left M&A in December 2017 after accepting the Vice President role at AWM. "Along with Kathy and Jakob, I'm so grateful to be continuing on with John's vision of what AWM could accomplish. It has been wonderful to learn the history of AWM and the music industry from John, since I started in January 2018. His passion for the industry and incredibly detailed analysis of product and pricing have been great influences for me. We have a wonderful team of people that work hard to provide top quality accessories and premium customer service, and we look forward to continuing that tradition."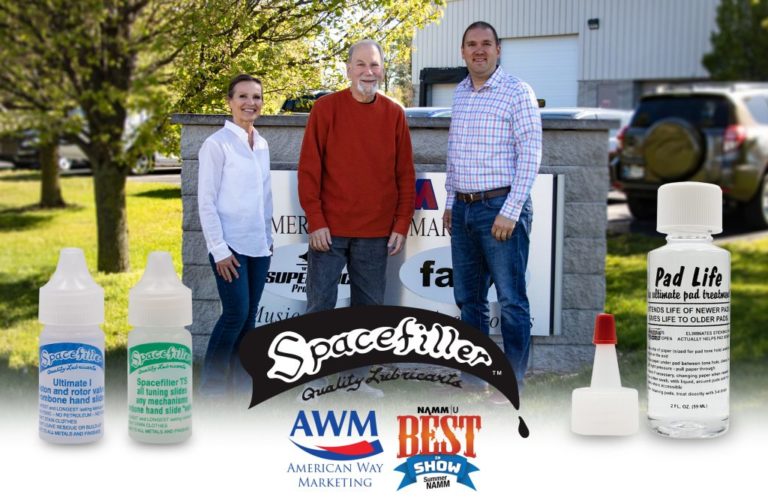 AWM ACQUIRES SPACEFILLER BRAND
American Way Marketing LLC (AWM), manufacturer and distributor based in Elkhart, Indiana, purchased Spacefiller Quality Lubricants in May 2021. While some traditional petroleum-derived lubricants are odorous and can accumulate on valves, rotors, and casings over time, Spacefiller synthetic products are odorless, nontoxic, and keep instruments free of gunk. Spacefiller products include Pad Life, Ultimate Piston and Rotor Valve Lubricant, and Ultimate Tuning Slide Lubricant.

Spacefiller Quality Lubricants, originally created in 1987 and distributed in Decatur, Georgia by MAMCO, is a pioneer in the synthetic musical instrument lubricant category. Tim Ricci, Vice President of American Way Marketing, travelled to Decatur in April to facilitate the purchase and remarked, "We are excited to continue the legacy that Jay Himmel and Charles King began over thirty years ago. Spacefiller is a perfect addition to the AWM family of brands including Superslick, Faxx, and Luthier's Choice. The synthetic musical instrument lubricant category is an important part of the continued growth strategy for AWM and having an additional high quality brand manufactured in Elkhart by our talented team works extremely well.

Faxx has partnered with BG France, cobranding their popular Flex Ligatures, complete with mouthpiece cap. The perfect combination of the legendary BG France high-quality materials and craftsmanship,
along with the quality and economical value of Faxx accessories.
Made from synthetic fabric, the ligatures are perfect for the advancing student, as a step-up in your rental fleet, or as a standard for school music programs which require a strap ligature, complete with a high-quality ABS cap.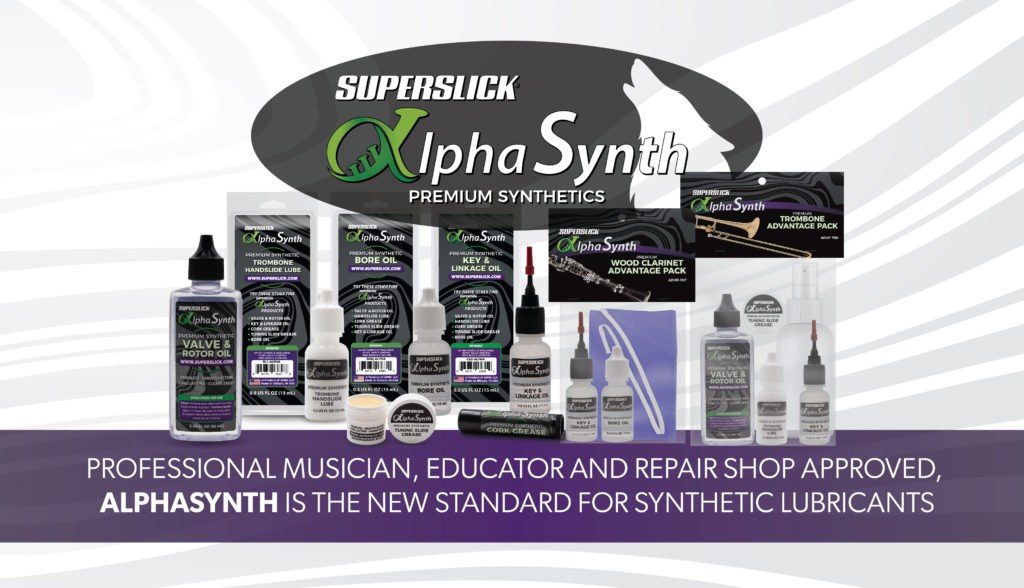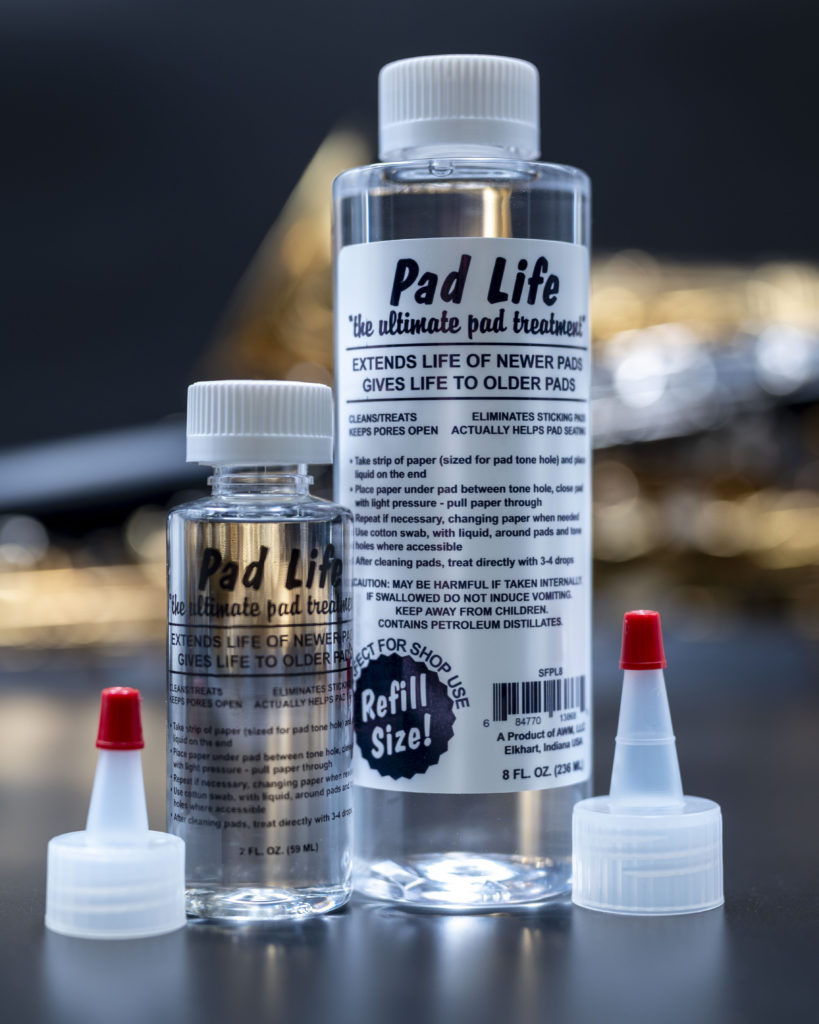 Spacefiller Pad Life
NOW AVAILABLE IN 8OZ SHOP SIZE
Pad Life was developed to help eliminate sticking pads and clean the tone holes of the 'waxy build up' that happens with leather pads.
The philosophy of Pad Life is to keep the 'pores' of the leather clean and open so that the moisture can pass through the leather into the felt backing and backout… which will extend the life of the pads. Other types of products seem to want to prevent the moisture from getting 'into' the pad…but that seems to be the way a pad is made.
This product will not make the pad gummy, one can not use too much of it or use it too often. Within an hour, the pad will be back to it's color, being dry and leaving the leather more softer and flexible without changing the 'seat' of the pad.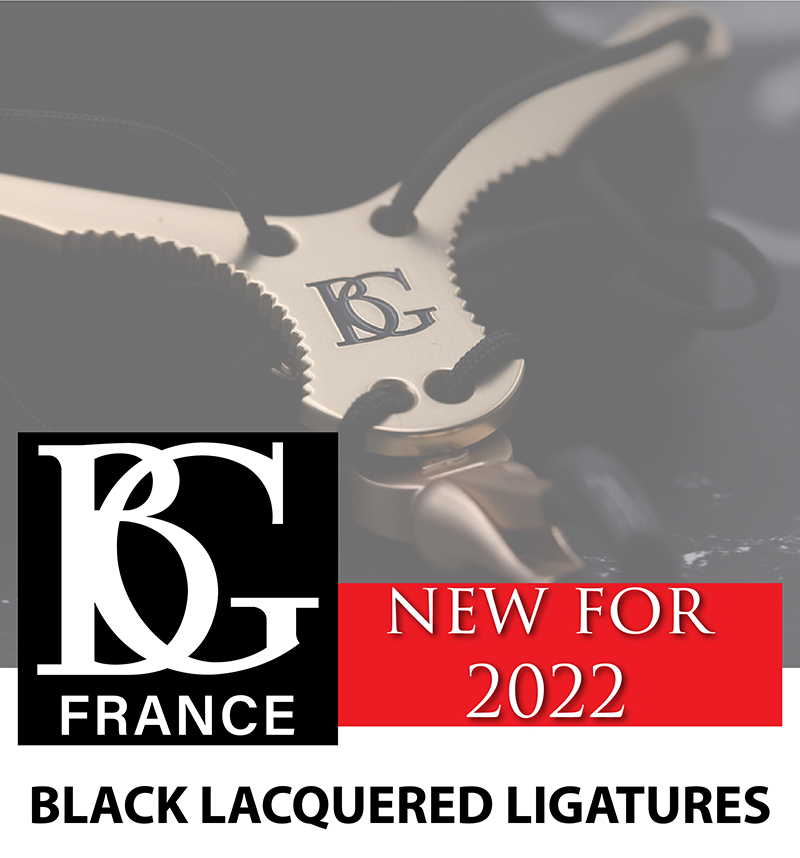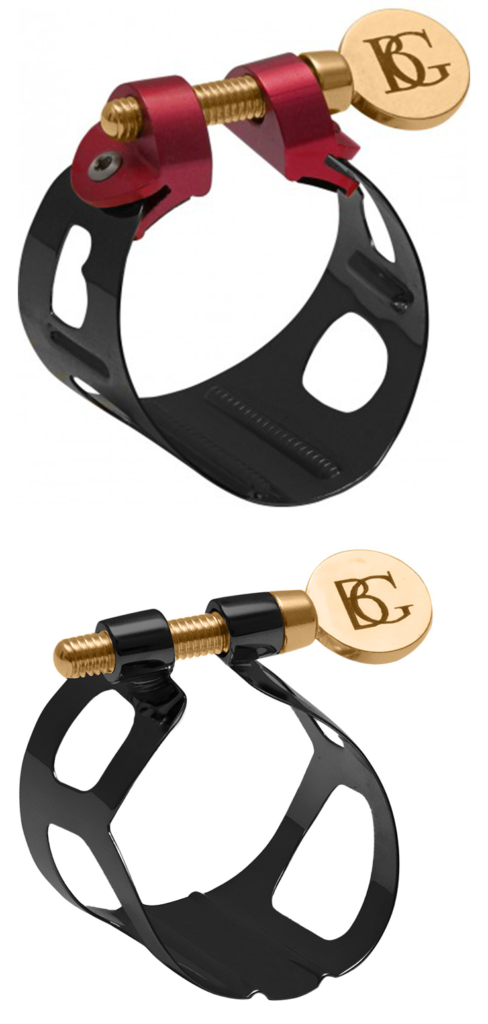 Black Lacquered ligature, compact and very centered sound with direct projection. Homogeneous in all registers. Each BG ligature provides a different sound.
BG's "Duo" Ligature
This model is a metal ligature with a black lacquered finish
The ligature offers reed contact/mouthpiece contact in only 4 places
This enables the reed to have maximum vibrations
This ligature offers a dark, compact sound. Very centered sound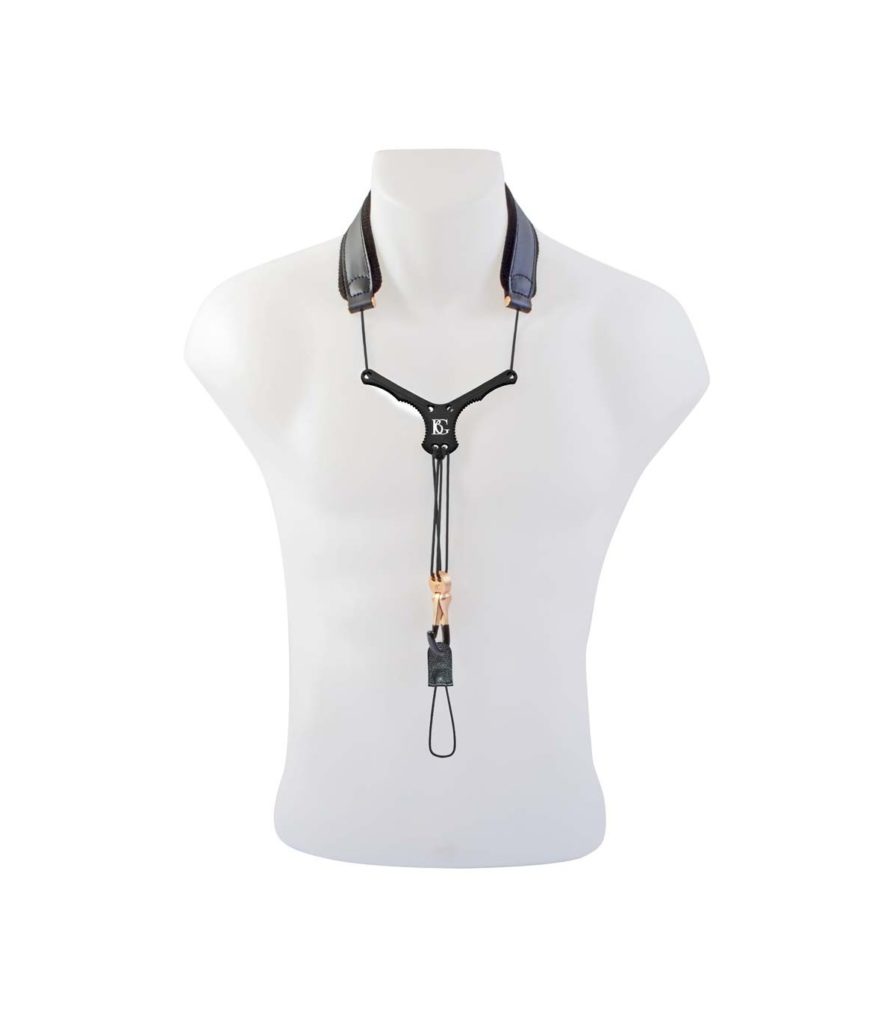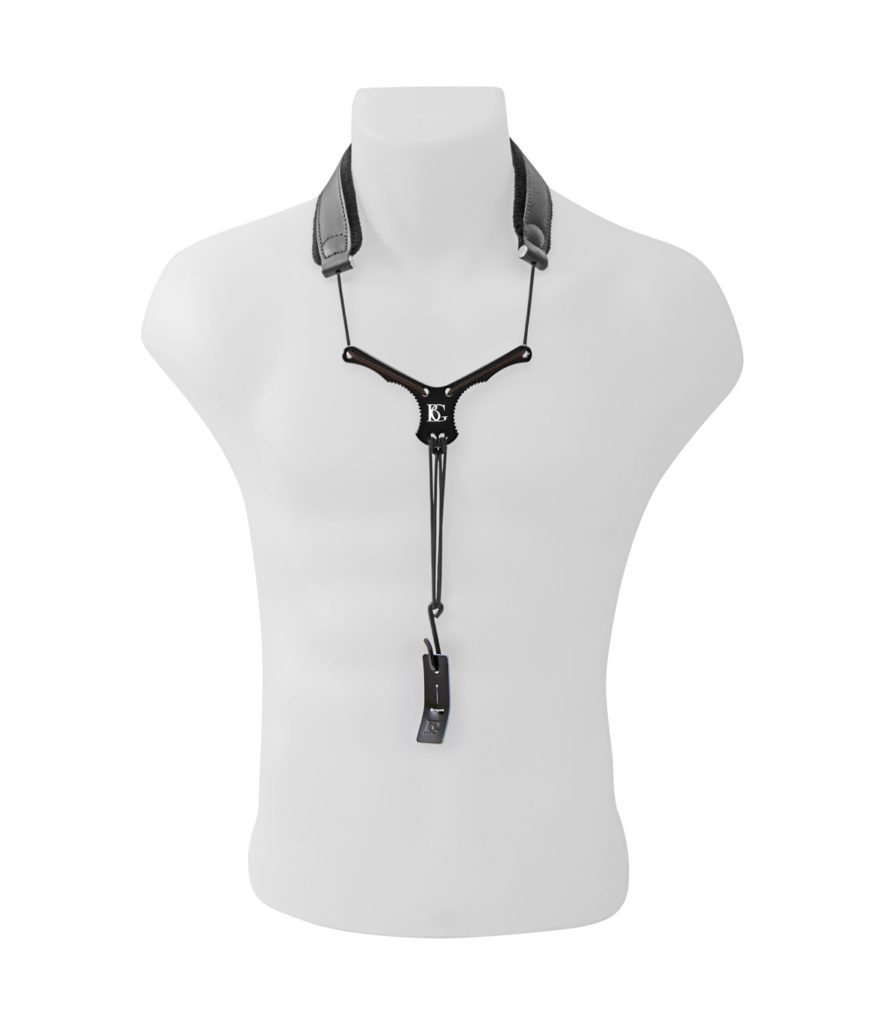 All of the advantages of nylon straps with optimized quality, look and comfort.
The Zen Attitude by BG.

Leather neck strap lined with sponge, ABS spacer with elastic string, metal hook equipped with 2 leather connectors. Simple and fast to use!
Sponge lined for sweat absorption and extra comfort
ABS spacer releasing pressure around the neck for extra comfort
Equipped with a metal hook and is simple and fast to use
Comes with 2 leather connectors